SC18
November 11 – 16, 2018 (All Day)
Kay Bailey Hutchison Convention Center in Dallas
---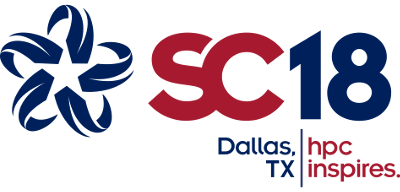 Globus is excited to exhibit once again at this year's Supercomputing Conference. Visit us in booth #4201 to get details on the important new capabilities we've released in 2018 - and what's coming for 2019.
---
Visit Globus in Booth #4201
As always, Globus will have an exhibit where attendees can meet with our experts, see demos, and get questions answered:
​Get details on new features like HIPAA support, the new web app, HTTPS and more
Attend a "Meet a Subscriber" Session to find out more about subscription features like file sharing, cloud connectors, and the endpoint management console

Users from UMichigan, Rice and Purdue will be in the booth daily to answer questions and talk about their experiences with Globus subscription features

See partner demos:

Western Digital: ActiveScale object storage systems are designed for petabyte-scale datasets with up to 19 nines of data durability, 8 GB/s of throughput per rack, and up to 63 PB of scalability per namespace - facilitating storing data forever. See the Globus for ActiveScale connector in action!
Omnibond: Launch your own HPC in AWS or GCP complete with scheduler, compute and storage with OrangeFS, object storage and NFS. Come see how easy it is to run on premise HPC jobs in a familiar HPC environment in the Cloud. Globus enables seamless data transfer to and from the Cloud through CloudyCluster.

Get your stamp for the Singularity Treasure Hunt</li>
Pick up new materials about our subscription benefits including protected data support

Already a subscriber? Come pick up a subscriber sticker!

Talk to product team experts about research data management requirements at your organization
</ul>

Globus Sessions and Presentations

We will be presenting in several forums at SC this year:

Hacktorial: Globus in the Cloud (part of the SC18 Cloud HPC Hack — sign up here: sc18cloudhack@hackhpc.org

Tuesday, Nov. 13 @ 11:00 - 11:25 a.m.
AC Hotel by Marriott
Globus presenter: Vas Vasiliadis, Chief Customer Officer

Mini-Workshops: Hands-On With Globus</strong>

Session A (Introduction)
Session B (Deep Dive)

</li>
Presentation: Using Globus for Research Data Management

Tuesday, Nov. 13 @ 1:00 - 1:20 p.m. and Wednesday, Nov 14 @ 3:00 - 3:20 p.m.
Western Digital booth #3901
Globus presenter: Greg Nawrocki, Director of Customer Engagement

Presentation: Globus Update for XSEDE ALL Champions Meeting

Tuesday, Nov. 13 @ 1:30 - 3:30 p.m. (our talk is a lightning talk during this session)
Room D220
Globus presenter: Rick Wagner, Director of Professional Services

Presentation: Identity Management Update (part of Middleware And Grid Interagency Coordination meeting) -- see slides from this talk

Wednesday, Nov. 14 @ 3:00 - 3:15 p.m.
Location D175
Globus presenter: Rachana Ananthakrishnan, Globus Head of Products

BOF: National Research Infrastructure: Collaborative Session

Thursday, Nov. 15 @ 12:15 - 1:15 p.m.
Location D173
Globus presenter: Rachana Ananthakrishnan, Globus Head of Products (with co-presenters Kenton McHenry from NCSA, Alainna White from Johns Hopkins University, and Frank Wuerthwein from UCSD)

BOF: The Power of Storytelling: Exposing User Experiences and Lessons Learned to Inspire and Instruct Technology Adoption

Thursday, Nov. 15 @ 12:15 - 1:15 p.m.
Location D166
Globus presenter: Mary Bass, Director of Communications and Outreach (with co-presenter Kristi Lanier from Cray)

See you in Dallas!
---