​Globus is a non-profit service for secure, reliable research data management.
With Globus, subscribers can move, share, & discover data via a single interface – whether your files live on a supercomputer, lab cluster, tape archive, public cloud or your laptop, you can manage this data from anywhere, using your existing identities, via just a web browser.​
Developers can also use Globus to build applications and gateways leveraging our advanced identity management, single sign-on, search, authorization, and automation capabilities.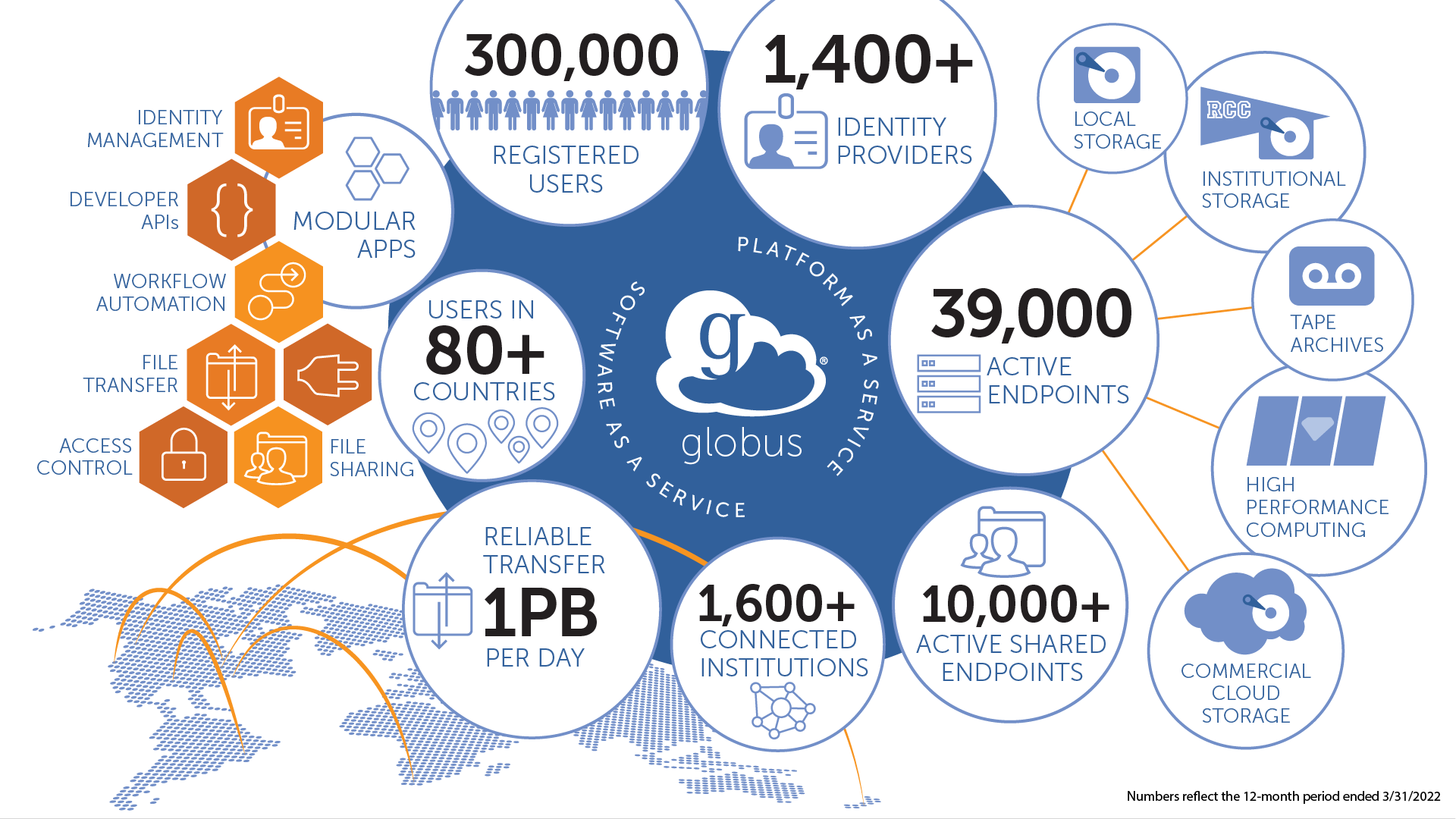 What can I do with Globus?
Transfer files: From kilobytes to petabytes, with Globus you can efficiently, reliably, and securely move data between systems within your site or across an ocean
Share files with others: All you need is an email address to share data with colleagues – Globus manages authentication and access
Develop applications and gateways: Our open REST APIs and Python SDK empower you to create an integrated ecosystem of research data services, applications, and workflows
Get details about all the capabilities a Globus subscription provides.
Who uses Globus?
Researchers at hundreds of universities, national labs, government facilities, and other research institutions – plus a growing number of commercial companies – use Globus routinely as they work with data
Research computing managers and IT groups depend on Globus to make storage more accessible for their researchers, and to monitor and report on storage system usage
Developers use Globus to automate data workflows and build custom web applications–such as science gateways and searchable data portals–as well as mobile, desktop, and command line applications and services.
Read more about our users and their projects.
Why should I care?
Globus removes data management roadblocks and headaches by providing unified access to all storage locations – in short, Globus makes it much easier to work with data, while ensuring security and reliability. When researchers (and the IT teams who support them) can worry less about moving and sharing their data, authenticating new users or connecting new storage systems, they can focus more time and energy on research.
Globus is supported by an expert team with decades of research data management experience, so users have first-rate support plus access to professional services for custom projects.
How do I get started?
With a low-cost subscription (kept affordable thanks to our community of subscribers) any organization can provide comprehensive data management capabilities to their entire team. Users can also get started today with file transfer – just log in and start moving data.
See all the options for getting started, whether you're a researcher, researcher computing staff, HPC admin, or facility IT leader.