Connectors developed by the community and supported by Globus.
We heard from the community that there is a desire for more connectors—and we listened. The Globus Community Connector Program enables your organization to work with Globus to develop a connector to your proprietary storage system. We will work with you to validate, test, and promote your connector, ensuring the best possible user experience. The program provides yet another avenue for our broader community—subscribers, commercial storage providers, and custom storage system developers—to engage with Globus and expand the connected research ecosystem.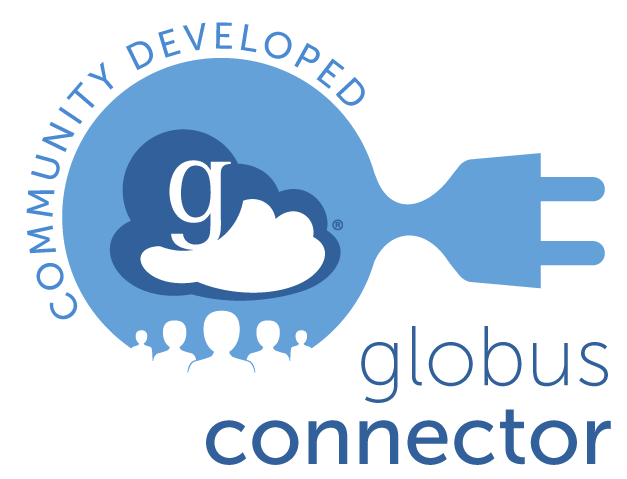 Program Requirements
The Community Connector Program encompasses a set of joint responsibilities for the developer/partner organization and the Globus team.
Partner Responsibilities
Development of a data storage interface (DSI) that enables Globus access to the storage system
Provision of an appropriate open source license to the DSI code
Engaging in DSI code and design reviews with the Globus team
Ongoing validation testing of the DSI to ensure compatibility with Globus Connect Server updates
Access to a persistent test bed for use by the Globus team during testing and validation
Providing Level 2 support for issues related to the DSI
Assignment of a primary support contact for Globus
Globus Responsbilities
Supporting design and coding reviews for the DSI
Maintenance of connector integration with Globus Connect Server
Ongoing integration testing of the connector
Timely notifications to partners to ensure continued compatibility with Globus Connect Server updates
Providing Level 1 support for issues related to the connector
Escalation of DSI support issues to the partner's organization, as needed
Program Benefits
The Community Connector Program provides support for outreach and education of the user community by both the developer and Globus. Once your connector is validated, you will have access to the following:
Listing on the Globus website as a validated, supported connector
Joint outreach to current and prospective users/customers
Use of the Globus Community Connector logo in your materials
Sharing of connector subscription revenue, as appropriate
Get Started
Please contact us if you are interested in developing a connector for your storage system. We will engage with you to inform and guide the development process, and ensure customer success.