What Makes Globus Different
Globus differs from other data management services in a few key regards:
Globus is easy, fast, secure, and reliable - we balance speed and performance with ease of use and reliability. Thousands of organizations around the world rely on Globus to get their big data where they need it, so their researchers can focus on science, not IT issues.
We make your storage work for you. Globus is software as a service (SaaS), enabled by the cloud. But we are not a cloud storage service, so you won't have to pay for us to store your data. We enable you to move and share your data to and from the storage options you likely already have: a campus computing cluster, a lab server, a supercomputer, or your laptop.
We are built by researchers, for researchers. Globus was developed by computer scientists at University of Chicago and Argonne National Laboratory and we are committed to sustainably supporting science, not making a profit. So transfer is free, and subscriptions for other services are far below the cost of competitive services.
Manage Your Data with Globus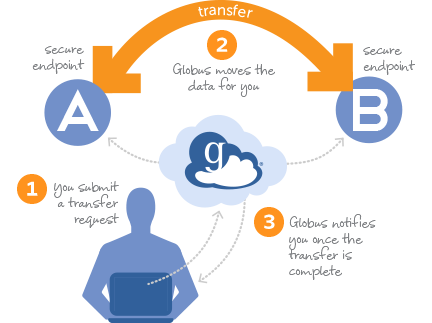 Connecting the Dots
We use the term "endpoint" to describe the different locations where data can be moved to or from using the Globus transfer, sync, and sharing service. Endpoints can either be personal (on a user's personal computer) or multiuser (located on a server, for use by multiple people).
If you want to move data from your cluster to your computer, you would set up Globus Connect Server on your cluster and install Globus Connect Personal on your computer, thus creating an endpoint in each location.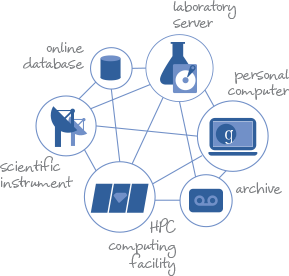 Have more questions? Check out our documentation site, or email us at support@globus.org.