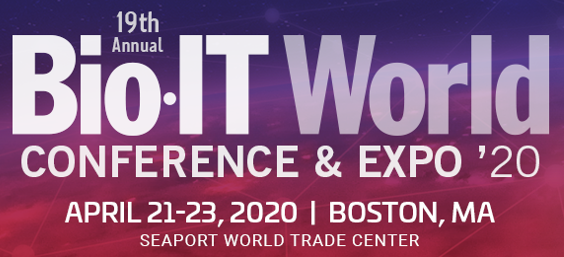 Globus is exhibiting and presenting at Bio-IT World 2020. See below for information about our booth activities and workshop:
---
Visit Globus in Booth #437
As always, Globus will have an exhibit where attendees can meet with our experts, see demos, and get questions answered:
Come learn about our support for protected data management (e.g. HIPAA data and other protected data)
Get demos of our latest connectors for Google Cloud and Box
Talk to product team experts about research data management requirements at your organization
Workshop: "Dealing with Instrument Data at Scale: Challenges and Solutions"
Date: Tuesday, April 21, 2020
Time: 2:30-3:30 p.m.
Presenter: Rachana Ananthakrishnan, Globus Head of Products
Abstract: Instruments including cryo-EM systems, light sheet microscopes, gene sequencers, and X-ray beam lines play a critical role in biomedical research, where discovery is driven by analysis of increasingly large datasets. Managing the data generated by these instruments is complicated and time-consuming, presenting challenges for both the facilities who operate the instruments and the researchers who use them. Instrument facilities want data off their machines as quickly as possible, and require management tools that can scale to many users with very large datasets; they also need automation capabilities to offload routine data management tasks, saving time and money. And researchers just want their data as quickly as possible, so they can get to the job of analyzing the data, sharing it with collaborators, and publishing it to communities and data repositories. The common need is end-to-end solutions that streamline data management throughout the research data lifecycle. In this workshop, we will demonstrate a fast and reliable way to address these challenges via Globus.
TOPICS TO BE COVERED:
Common instrument data management challenges, with a dissection of the key pressure points that need solving
Using Globus to securely address these needs across the lifecycle including migration, sharing, auditing, archiving, automation, publication, and discovery
Demonstration of Globus in action
Integrating Globus capabilities into applications, including code walk-through and examples with Jupyter notebooks
Real-world examples of users applying Globus to solve their instrument data management challenges
---
Since its debut in 2002, the Bio-IT World Conference & Expo has been the world's premier event showcasing technologies and analytic approaches that solve problems, accelerate science, and drive the future of precision medicine. Bio-IT World unites an ecosystem of over 3,000 leading life sciences, pharmaceutical, clinical, healthcare, informatics and technology experts in the field of biomedical research, drug discovery & development, and healthcare from around the world. For details, visit the conference site.