Researchers at the University of Kentucky have used Globus to transfer data for many years. The University, however, recognized the need for a mechanism to go beyond data transfer, with the need to also share research data critical for programs with other institutions.
One such program is the NSF Kentucky Cyberteam, which facilitates support and access to University of Kentucky computational resources (compute and storage) to research faculty from multiple institutions including the University of Louisville, Northern Kentucky University, Western Kentucky University, Eastern Kentucky University, Kentucky State University, Morehead State University, Murray State University, Centre College and Berea College.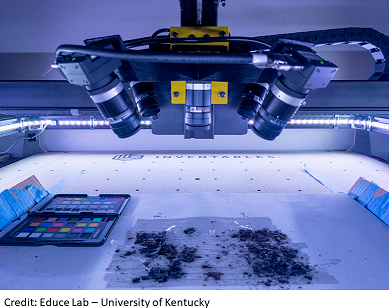 The NSF Mid-Scale program - EduceLab, is another important program at the University where research data needed to be transferred and shared. The EduceLab is a highly specialized heritage science laboratory designed to provide data-intensive solutions to the most challenging problems in the study of cultural heritage. Its unique ecosystem of non-destructive instrumentation offers key scientific capabilities that are crucial to addressing the challenging variability of heritage science contexts. EduceLab comprises four operational clusters – BENCH, MOBILE, FLEX, and CYBER. Each one is based on usage patterns that match the needs of diverse heritage science communities and all will involve the creation, movement, and sharing of research data.
The University has already implemented Globus endpoints at the Center for Computational Sciences and Information Technology, as well as at the Gluck Equine Research Center, where Globus data sharing has helped the nationwide community of Equine Genomics Group. Plans are underway to add additional Globus endpoints at many other centers including the Center for Applied Energy Research, Center for Structural Biology, Institute for Biomedical Informatics, Kentucky Transportation Center, Sanders-Brown Center on Aging, and the Markey Cancer Center.
Globus enables our researchers to easily and reliably transfer and share data with others within our university, or at other institutions. The file sharing, HTTPS support and data automation services helped us in our decision to purchase a standard subscription along with the premium storage connectors for Google Drive and Microsoft OneDrive."